Anacak Y, Zubizarreta E, Zaghloul M, Laskar S, Alert J, Gondhowiardjo S, Giselvania A, Correa-Villar R, Pedrosa F, Dorj B, Kamer S, Howard SC, Quintana Y, Ribeiro RC, Rosenblatt E, and Hopkins K
.
2020
.
"The Practice of Paediatric Radiation Oncology in Low- and Middle-income Countries: Outcomes of an International Atomic Energy Agency Study."
.
Clinical Oncology
, Epub 2020 Nov 26. .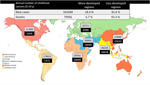 Abstract
Aims: Childhood cancer survival is suboptimal in most low- and middle-income countries (LMICs). Radiotherapy plays a significant role in the standard care of many patients. To assess the current status of paediatric radiotherapy, the International Atomic Energy Agency (IAEA) undertook a global survey and a review of practice in eight leading treatment centres in middle-income countries (MICs) under Coordinated Research Project E3.30.31; 'Paediatric radiation oncology practice in low and middle income countries: a patterns-of-care study by the International Atomic Energy Agency.'
Materials and methods: A survey of paediatric radiotherapy practices was distributed to 189 centres worldwide. Eight leading radiotherapy centres in MICs treating a significant number of children were selected and developed a database of individual patients treated in their centres comprising 46 variables related to radiotherapy technique.
Results: Data were received from 134 radiotherapy centres in 42 countries. The percentage of children treated with curative intent fell sequentially from high-income countries (HICs; 82%) to low-income countries (53%). Increasing deficiencies were identified in diagnostic imaging, radiation staff numbers, radiotherapy technology and supportive care. More than 92.3% of centres in HICs practice multidisciplinary tumour board decision making, whereas only 65.5% of centres in LMICs use this process. Clinical guidelines were used in most centres. Practice in the eight specialist centres in MICs approximated more closely to that in HICs, but only 52% of patients were treated according to national/international protocols whereas institution-based protocols were used in 41%.
Conclusions: Quality levels in paediatric radiotherapy differ among countries but also between centres within countries. In many LMICs, resources are scarce, coordination with paediatric oncology is poor or non-existent and access to supportive care is limited. Multidisciplinary treatment planning enhances care and development may represent an area where external partners can help. Commitment to the use of protocols is evident, but current international guidelines may lack relevance; the development of resources that reflect the capacity and needs of LMICs is required. In some LMICs, there are already leading centres experienced in paediatric radiotherapy where patient care approximates to that in HICs. These centres have the potential to drive improvements in service, training, mentorship and research in their regions and ultimately to improve the care and outcomes for paediatric cancer patients.
Last updated on 03/07/2023